---
THE STAFFUNITY STORY
A team building service for employees—designed by an employee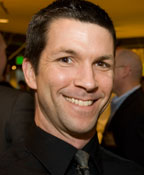 TIM CLARKE

See Tim's photography...
I am not an HR professional and have no background in workplace culture or employee engagement, but I have been an employee at several different companies over the past 20 years. I've recognized a common problem in many large organizations: employees from different departments don't necessarily know each other very well. This can make it difficult for them to work together and understand each other's point of view.
The StaffUnity Lunch Group Matching System is the answer to this problem. The team building idea came to me after a personal experience at work. I was working on a big project and needed help from a fellow employee who worked in a different department. We had never had any team interactions before—in fact, we had never even met. For some reason our personalities clashed a little, and we were having difficulty getting the project completed. We had come to an impasse, so one of our managers suggested that the two of us get together for lunch.
After a single meeting, we got to know each other personally, and to my surprise, we got along really well. Our work relationship immediately improved, and the project was completed on time. I started thinking about the impact this could have on a company's productivity, if this experience could be recreated in groups for the whole staff.
The StaffUnity system is available to any company that wants to unite and strengthen its staff through personal connections and team building activities. I believe that a more connected team leads to better ideas, communication and productivity, which benefits the company and its employees. Read testimonials from actual lunch club participants to see what an impact the system is having in their workplace right now.
Please feel free to contact me with any questions or ideas you would like to discuss. I look forward to hearing from you and helping unite the employees in your organization.

Tim Clarke
Owner/Founder